What follows is the personal Blog of our customer and owner of JRP Online, a performance retailer located here in Oakville.  I had a chance to meet Derek before he left on his trip to Germany and he was already all smiles!  Congratulations Derek on a fantastic car and a even better write up! Budds' appreciates the realestate on the window!
I'm sitting in the Sheraton Westpark Hotel near the BMW Welt where I'm heading in about 8 hours to pick up my 1M. As you might imagine…I'm damned excited!
Over the next couple days I'll post all the stuff I can related to the car and the ED. If you ever wondered whether Euro Delivery was worth the effort…you have to try it. The people at BMW have been simply amazing organizing this delivery and have even invited me to the M-Studio to meet with the Engineers who designed the 1M! I'm headed there right after the pickup! What an amazing experience….
I'll post again tomorrow after the delivery and the M-Studio tour!
Forgive the time it took to get this up, its been a long day and the hotel I had booked my self before I left….had their internet fail. We're all good now.
Today was an awesome day, even with no sleep! I made it to the BMW Welt about 8am, an hour ahead of my planned 9am delivery. The BMW staff greeting me at the front door, checked my luggage and delivered me to the Lounge Area to check in. Bianca led me through the documentation process and as she did dropped that my 1M was the very first production 1M they had ever delivered. I wondered if it was true, but she confirmed it without me solicting. The paperwork process was simple, clear and very well thought out. (and required remarkably few trees to die!)
When I was done getting checked in headed over to the cafe for a quick breakfast…and as I did, caught this through the glass looking down from the 3rd to the 2nd level of the Welt: Its Alive!
I must have been slobbering or something, becuase within a few moments there was about ten people looking out the window trying to see what I was looking at. As calmly as I could I walked over and had a quick snack to wait the 20 more minutes until my delivery. Soon, Sven greeted me and took me down to the see the car.
As we decended the stair case to the delivery level, Sven, wipped out his PDA and clicked a few buttons which started the car spinning on its turntable, what a way to great your new car! Here is one of the many shots I took from the stairs:
The Black M3 Competition Coupe behind the 1M was a great comparison. This was the first time I'd seen a BSM 1M, and had ordered it "fingers crossed" that I'd like it. I saw the orange at Detroit and Toronto, and liked it, but didn't know if I could love it year in and year out. After seeing these two cars together I was very happy with the colour…and the car too! The athletic look of the 1M is stunning. Here is another shot just outside the Welt as I adjusted luggage and matts etc to go and pick my friends from the airport:
Off to the airport to grab buddies I go. The little car is TIGHT. The steering (keep in mind, this is my first BMW, but I've driven many) is unbelievable. This is not a car you let your head nod on while driving I75 top to bottom…you'll be in the ditch. The steering is positive, direct and communicates everything. You can feel those big tires grabbing the pavement at slow speeds and its kart like when you're rolling. Traffic was light, and the weather not bad so a quick squirt up to the Munich airport was done in moments, thrust above 125 Mph is just wonderful. You can drive 6th gear down below 50 Mph and all the way up without shifting, not the fastest way to do it…but you can comfortably.
I learned a few things I'll post later, but the car is quick. It had 4km on it when I left…gotta be nice for a while!
Here's the car at the airport:
Two friends and I headed back to BMW Welt for a "House Tour" and look thorugh the Museum. Parked outseide the Welt again, and a quick shot from the Museum back towards the Welt across the street:
I have lots of photos from inside the BMW Museum, and from inside the BMW Welt. Here is a couple I thought were cool. This sign on the floor of the Welt was not really obvious, I walked over it several times without noticing…until I was up three floors!
Here is one looking across the street from the Welt parking towards the 3-Series factory attached to the (4-Cylinder) BMW Headquarters:
I can post more of these types of images if anyone would like to see them, but I've had difficulty getting internet and getting things uploaded, so I will focus on the 1M for this update. Let me know if you like the other topics and I'll expand on them another time.
After visting the Museum and taking the Welt Tour, we headed to a special place…BMW Canada and Budd's BMW worked with BMW M-Studio to arrange a meeting with the engineering staff who created the 1M. What a treat…
We had an hour of time with the team who designed and tested all the compenents and set the lap time for Nurburgring. It was sooo cool. We pulled up front at the BMW-M Facility in Garching and Azedeh from M Customer Relations met us and guided us inside, through security and took us and the 1M right inside the M-Studio
This bunch of people were a riot…what a job they must have! The camaraderie these guys had with each other was apparent. The joking and teasing was great. But they taught us a lot…..
I was trying to remember all the questions I had to ask about the car….and the Moto GP Car of course!! I now know why those twelve people who won the trip to see the car early in the marketing didn't have many bad things to say, and why they felt the 1M truly was an M-Car.
If you think about it, going through our questions, the following items were addressed by this bunch of engineers:
– Front Strut Bar – If you din't see it on the marketing cars….you will…There is a massive metal ring on the top of each strut tower that has beams attached to them that run back to the firewall. Completely different than the 135i
– Extra Water Cooler: Driver side front
– Upgraded Power Steering Cooler
– Upgraded Rack Ratio
– Completely different tune, although on a very similar engine. – We were describing how we were driving the car trying to make the appointment at M and one engineer told me, "the only reason you haven't spun it is becuase you left the traction control on…." He also dropped that this would occur because….there is more under that pedal than might be printed in a brouchure….
These two crazy guys did the transmission, engine mapping and differential.
– Lightweight Flywheel, a lot lighter, as described to us, its as light as could possibly be used in a dual mass application.
– Dry Sump Light weight transmission, totally new for this application
– New Driveshaft, lightweight to addapt to the new transmission
– M3 Differentialwith dynamics for the shorter wheelbase considered with integrated cooling fins
– Complete M3 suspension – Control Arms, Shocks, and other components. The shocks use the stock points as the M3s do, however, they are completely different for compression and rebound, similarly the bushing are the same size etc, however, are cast for the 1M application, Sway Bars and something else I'm forgetting right now….Ask away, you might jog my memory.
Brian, Director of Sales & Marketing BMW M with my friend Steve.
– Brakes….I lost nights of sleep wondering why they used the brakes they chose…here's why: When they tested the 6 piston upgraded brakes from the 135i they had very high temperatures, and issues with the rotors given the cars extra HP and speed. They jumped from these to the E92 M3 Brakes to see if it would improve things, and it did…but for good measure they tried the M3 GTS brakes (Floating Caliper) and some aftermarket as well, but found the GTS brakes to be too loud, too expensive and no better performance (in this application) then the regular E92 M3 brakes. All they had to do was recalibrate the Vehicle Dynamics, ABS etc, and change the rear pads to a different compound to compensate for the shorter wheelbase, lower weight and the way the car reacted on a couple of the messier corners at Nurburgring. The E92 M3 brakes offer the ability to use rotors that have the swept area mounted to the hat via vertical posts. These verticle posts allowed the rotor to expand and contract considerably, consistently, repeatedly without having rotors issues. These rotors were designed to be used with the E92 Calipers…and those Calipers were designed to be used with the M3 Competition wheels…therefore…
Speaking of M3 GTSs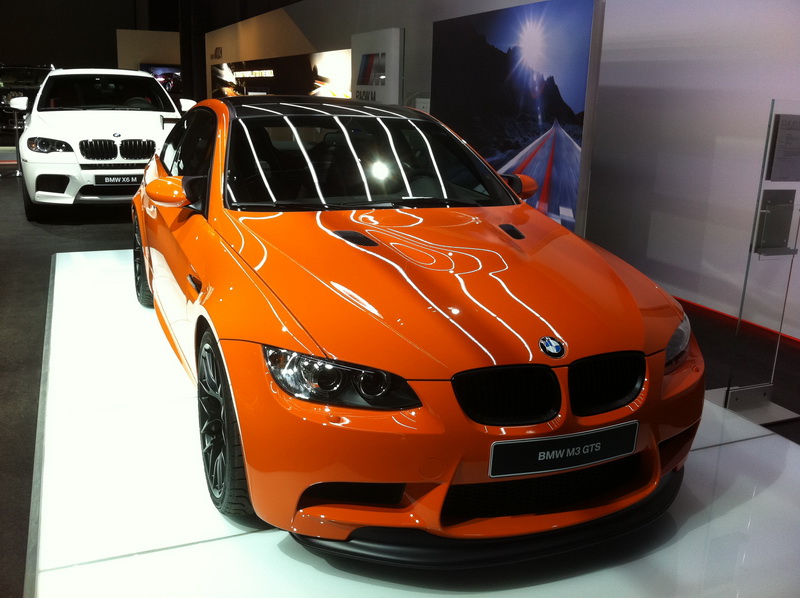 – M3 Wheels -I started asking about this by saying…I tend not to sell cars…I buy them and sorta keep them eternally. When I get the car home from Germany I will mothball the original wheels for another day and replace them with daily runners: Money no object, what should I buy and what size should they be (This is where I started hinting at the Moto GP Car)? The answer was don't change anything too much. Funny enough they asked if remembered the Gold wheels from the test mule? I did. The recommedation was to find a wheel that was STIFF enough for the challenge, size was not the first consideration. They chose the BBS becuase they were strong and would distort very little under the load a 1M could deliver. The M3 Competion wheels were the strongest wheel they could fit over the brakes comfortably and were designed for end user use. After exhaustive tire testing, the tires they choose also fit the M3 Competion Wheels perfectly, viola. The one caveat was that if wheels that retained the stiffness of the originals or better, and were lighter, they would make a great addition.
– Tires – Nobody was naming names. But we were given a bunch of model numbers and sizes that were tested and the PS2s were found to be simply the best. They also said in regards to changing the wheels and tires that the car had the biggest tires it could use, biggers ones would bring little beneft in its current config. I asked about the Moto GP car with the 255/285 Combo and found out these fine people built that car too…and the bigger versions provided little to no gain. The biggest differnce was that the front wheels on the Moto GP car was pushed out 5mm to clear the KWs. The rest was more for looks and to be different.
– Bodywork – Everybody knows this part…its wide. People were just short of causing multi car accidents trying to give us "thumbs up signs" in traffic. People from all walks of life notice it and respond.
– Interior – M-Button – Keep forgetting to try this, anther post. You all know the rest here too. stitching, Alcantara, Pedals, M insignia on the leather seats, Gauges, Shift Knob (not lit), Steering wheel. I picked up the rubber floor mats and the touch up paint at the BMW Welt before I left, couldn't resist…40 Euro, done. You ask why I would buy the touch up paint…well I'll tell you tomorrow….
Basically, there has been so many parts of this thing that have been massaged, that it's hard not to consider it a real M car. I'll take flak for this statement I'm sure, but you can't buy all the stuff and the engineering expertise to make it work so flawlessly for anywhere near what BMW has charged as a premium. I'd pay it again.
Here's where I'm working from now to get this done:
We're siting outside a locked building with an unlocked wifi network. Two feet in any direction and we have no more connection….
As a parting gift, the whole Engineering staff for the 1M signed a Dealer Poster for the 1M as a gift to take home. Thank you very much everybody, what fun we've had on this trip so far!
Freezing our tails off. Signing on again tomorrow with much more, and more about driving the car. 'Nite
I've uploaded this one video before we have to leave for a dinner meeting. I will get back on tonight and get all the others up I planned to have up and answer questions.
Here is the Exhaust at Start up and some Throttle Blips:
Okay, here we go.
Here is a couple more videos, one (with the car warm, becuase one of the posts nailed it, when it warms up it does get more subdued) driving out of the business we asked for help to fix a paint related issue, and one heading back out into the countryside where we are staying.
The first one, driving out of the SONAX Training Center in Neuburg, is another cold start and roll out of the bay we were using. This and the exhaust sound video were recorded without the M-Button engaged, the response does change with it engaged. Considerably under load and the traction control off….which you'll here in the third video as long as we get it uploaded before we lose battery power. First Video:
This one is a country road outside neuburg, heading towards Ingolstadt (Home of the Audi Factory, beautiful rolling Bavarian countryside) and is 2nd gear pull and upshift to 3rd, just trying to give a street level example of the exhaust:
This is a video from inside the car, windows down (great at the beginning, not so at the end) from nearly dead stop to 180kmh in third gear with the M-Button on, Trac Control Off:
I saw someone post some things related to the Strut Tower Bar, here is the images of the one on the 1M:
I mentioned early in the blog how the swept area of the Brake Rotors were mounted on verticle posts, here is an image so you know what I meant:
We visited SONAX for business related meetings, however, it could not have more timely. Would you believe that twelve hours after picking up the car…a bird crapped on the hood six inches behind the Passenger Headlight after 1am sometime…and it burned through the wax, clearcoat and into the paint before we could get it off at about 10am? I was incredibly lucky to have their trainer and a chemist offer to look at it under a jewelers loop and determine the best plan to minimze the damage, and then walked away as they SANDED it OFF….Yeah…I'm still shaking. When they were done they repaired the paint, Nano Coated the entire car, including the wheels and gave us a goody bag to use into the future. (Thank you Thomas & Erik, below)
Okay, now is as good a time as any to address the gripes. I just dropped 70 big ones, (thats what this thing costs in Canada with our wonderful Tax included), so you have to understand….I'm invested. Not even looking at the negatives yet (~60 hrs in)!
But there are some and here they are quickly:
– (This is all me) I should have ordered the NAV….The dash is so simple without it, you'd swear you were driving an Vitz/Echo, excpet the gauges are where they're supposed to be. The use of Alcantara on the dash is awesome, but boy it would have been a lot better if the whole thing was done, or at least a good bit more of it. Or leave the Alcantara off that little strip, and make it Carbon like the accessory piece. (I know, this makes it a 1M…)
– Along these same lines, the interior is sparse. It does seem pretty bare bones for such a car. Have you driven a Chevy Cruze? See what that buyer gets for Fifteen grand???
– The seats are acceptable for such a car, but they could be more…something…more aggressive, Alcantara, something. I can't put my finger on it. They just seem too nomal for such a car.
– There is no "Holy S__t" handles in the back. The driver has one…but not the rear passangers. They need it!
– There is no spare. (I've never owned a BMW, and never peeked in the trunk a 135i…so maybe you all knew this already) There isn't much back there, I didn't see a jack or tools to get the wheels off…Yet. Maybe they're tucked in some creative place I haven't found.
– The front of the car is too high. There are fixes for this, I'll let you know how I fix it one day soon. The rear is not that bad actually, but could be tad lower.
– Shifter could be a little shorter throw. I understand it may already be an improvement over the 135i, however, I could stand it to be shorter yet.
– Doesn't say anything on the brake calipers. As vain as this is, it would be cool.
This is what I can recolect for now. I'll add or expand on this stuff another time.
Here is something that I've been dying to post, but I didn't really get a chance to carry ALL the speed in my last trip down the Highway!
For all the people in Ontario…I discovered that the world DOES NOT OPEN UP AND SWALLOW YOU WHOLE AT 150 km/h!! Not at 200, not at 250…and for some reason, not at an INDICATED (?) 270 either…
Sorry for the blurriness…it was not as smooth a part of the road when we were getting up to this speed. Contrary to what the picture might make you think, the car was rock steady. My picture taker guy was freaking out as we'd been at ~275 and he was a little excited. Everywhere I've read says there is an electronic limiter on this thing, but unless the speedo is way off…we were going faster than that…
I've had some time behind the wheel now and I'm gettng a better feel for the little beast. Here is a bunch of observations: (I have intentionally not read what all the other mags and places have recently published, hopefully I'm not off 180 deg).
– This car does what you want it to do. I'll have a better feel for it at the track on Saturday, but for around town (wonderful), BLVD cruising (wonderful), highway cruising and with a bit of anger (wonderful) and sitting at a light looking great…Wonderful. There will be people who wish for it to have more power (picture me waving my hand), however, I now know that I've got some learing to do with the cojones it has before I add. This thing carries great amounts of speed so effortlessly, its just nutty. More power will make it accelerate more quickly, we all love that, but wait until you feel this thing stick. It sticks. And this is the part I want explore.
– I might be getting old. I love the exhaust at the end of a long day. I'd love it to be louder, until about mid afternoon, then I'd like this one back again, and back again for night time.
– I love small cars, crazy about them. The 1M belies its true weight and size. It feels like a GTI in size, but gosh it's not a GTI. R32ish maybe, but its lighter feeling and more fun.
– I mentioned above I wasn't excited about the seats, but they do fit me well! Especially with the leg supports extended and the bolsters in the sides of the upper part correctly adjusted.
– I've driven the 135i a few times, and the lighter flywheel and more agressive tuning make this a lot nicer to shift and drive. Having said that, I've never pushed a 135i really hard, so I might not be the best to compare the two at their limits.
– The 1M has a very firm suspension. I found it similar to a E46 with a Very Good Coilover, only quieter. The fast ratio steering, the firmness of the suspension and grip of the tires makes for a go-kart type drive. It doesn't have the big heavy serious feel like a 996 or even a Boxster (although I've owned a Boxster and they are pretty amazing, too, just slow). The big difference between this and an E46 on Coilovers is this one soaks up the bumps so effortlessly and altough you can feel the big wheels and tires out there at the corners, the chassis and shocks are keeping them under control. You can tell they're working to keep them under control, but they're doing it happily.
– Steering wheel on the 1M is thicker than I'm used to, but its very similar to a Sparco Faster (bit bigger), or a Ring (bit smaller). At first it wasn't for me, but at 250+ its my new best friend!
– The gauges are SO easy to read, but you BMW customers are used to stunnig gauges.
– The factory wheels, cleaned and polished are stunning against the Black car. If I had chosen the VO or AP, I'd have had new wheels waiting for me back home. But I wanted to see what they looked like against the Black, and they're stunning. This makes the choices a bit more challenging
Somebody asked for a shot of the shock part numbers, here is the rear, I couldn't get the front today, but will tomorrow.
I noticed a couple posts about the car's use and asking about the engineers recommendation for oil changes etc. They were very clear, get some milage on it, 1000 km-2000km first, then change the oil (likely break in oil) before beating on it or taking to Nurburgring. I don't know if you've noticed, but I'm trying to be gentle on it, even though we're using 9/10 of it.
It happens that I'm in the pool of people who do believe that you should use as it will be used, but all my experience has been Porsche, VW and Toyota. I babied the Posche, it didn't help me. The VW and Toyota were red lined every gear, every day, for 200k km each and each are still in the stable, using not one drop of oil.
In all but the one launch though third gear did the peddle touch the floor. Every other point in video or photos was acheived without full throttle. (I guess there were a couple moments on the high speed run too, when we were eating up straights a bit too quickly, but they were moments, 2-3 seconds).
Someone in one their posts said it best, what would you do? I live in Ontario. We have a government that believes that nobody has a need to go above 150 km/h (or 30 over for the US guys, 93 mph). At 150 km/h you loose your license, are fined $10,000, they impound your car and off you go to jail for a bit…..Before this, they just fine the crap out of you and your insurance skyrockets.
I'll do my best not to hurt anything, and I'm not doing these things specifically for this post.
While I'm here, I'm going to enjoy. I can drive it slow for years to come back at home.
My Trip to Nurburgring
Hahaha! I see someone from Germany beat me posting my photos! Many are almost identical to the ones I was about to post, some better! I won't post duplicates, here is some notes from yesterday and the Nurburging info is below it.
Yesterday:
***Everybody, thanks so much for the encouragment and tips! I went back and fixed up a few of of the issues, all should be good now. The bad internet connections and lack of forum experience has made this all the maore a challenge. Any insight is welcome.****
Yesterday wasn't a busy day for the 1M and I other than we drove our first long trip together.
Firstly, I've owned many different cars, all over the spectrum, many of them highly modified, the 1M makes 5 in the stable at the moment. I'm a driver, too, having driven well over 1M kms in 25 years of driving. I've have owned some that attracted some attention…but nothing like the 1M.
I'll start with what happened when I arrived at the Ring. My schedule has been crazy and I forgot to book the hotel here, so off we went "hoping" that we'd find a place we could sleep at midnight in the country (oops). When we arrived we drove past the Jaguar, Aston, Cadillac/Chevy Racing Centers, under the track and see the "Ringhaus Hotel" very near the track entrance. All the windows are darkened and there is a faded sign taped to the window that says call +49 2691 935390 to check in. I call the number and across the courtyard I see a curtain pulled away from a window and in sleepy English with a heavy accent the man says (before Allo, or any other greeting), "Is that the 1M? I'll be right there…."
Jorg was the man who greated us at the Ringhaus (http://www.ringhaus.com). This is the original hotel and garage built in 1924, before the Ring opened in 1927. The Auto Union Team stayed and prepared their cars here, and so have many others ever since. Its literally right at the entrance to the Track and was just fully refurbished. Here's Jorg and the crew out front, and an original image from back in the day:
A couple friends (in preveios photos, and above) joined me early this week for appointments during the week, and another flew in today to spend the weekend at the track with us. As we drove up from Neuburg, right beside Ingolstadt (where Audi is, see photo)
we stopped for gas and a drinks along the highway. We never made it out of the car before people were standing at all four corners of it, checking out the brakes, looking underneath, and wierdly, they didn't say anything. I nodded at them as I got out and pushed past so I could walk around to the pump, still nothing. I filled up and went inside to pay, upon returning found all the people that were there moments ago were gone…and replaced by all new poeple. They didn't respond either.
My friend Steve was amused by the can of 10% alcohol Beer for sale at the highway gas station where we stopped, right there beside the Premixed Jack & Coke, and the mickeys of Jager and Jim Beam. For sale on the highway.
Cruising north on the A3 heading towards the track, we were almost run off the road several times be passers by who were caught off gaurd by what they saw and forgot they were doing 180 km/h. The best though was two women in a highly modded E46 M3 who blew by us as we cruised at 180. They made it about 2 car lengths past us, slammed on brakes, hesitated, and then moved out the fast lane to go across our bow, down one side, across the back and up the driver side again. Big smiles, thumbs up and they were off again. A couple others did this too, interestingly, all were driving other BMWs.
We used an entire tank of Fuel on the trip, arriving with the light having been on for sometime, and 8 km (5 miles) range left on the gauge….We averaged 11.9L/100km or 20 mpg (US) at a range of speeds, mostly around 150 km/h. I think back home, I'll easily get this under the 10L/100km mark or better.
Today:
We had a blast at the track today and we met some awesome people (It was great to meet you Mark!). We had some helping hands with intstruction, learning track ettiquite, finding a great place to eat, etc. Ron and John at RSR Nurburg, beside the Ringhaus Hotel, offer track rentals, car sales and instruction (http://www.rsrnurburg.com/. The four of us hired them for instruction and two more cars (both Clio). Ron was a great help, and clearly had an impact on my days success. He showed me a bit of the line, but more importantly, gave me some insight to what the other drives would do, what to focus on (steering and brakes for me) and got me through a nervous first lap.
The second and third laps were more about learing the track, and discovereing that I was barely using the car. On the forth, a great guy driving an awesome vintage Escort (who had passed me a lap earlier) offered to spend another lap with me. He had been racing on the ring for 20 years and clearly knew it well. If only I had his name…I'd tell you, but I don't…He helped me to identify a couple parts of the track where I could carry more speed and how to improve my line. This was helpful after having a couple laps under my belt.
The fifth lap was great! I had the little car honking! I wasn't brave enough to deactivate the traction system, but it was activating a good portion of the track and cars passing me earlier were disapearing behind me now. Earlier I posted I wanted to explore the stick the 1M has, well I did it. It sticks. after examining the tires, it would appear there is lots more stick available to me, I was barely using them….As you can see, they weren't rolling at all, they were barely getting warm…and yet I was carrying good speed. THe car, as delivered from BMW, was sooo nice to drive fast on the track.
I'm sure you all want to know something about track times or have an indication of how it compares, I don't have it. I'm a competitive guy…a lap timer would have ensured something bad would happen!
I was very happy with my own progress, and the car made me look like a star. All these cool on track photos are courtesy of http://www.ring-bilder.de owned by Jorg, the guy working at the Ringhaus Hotel.
I wasn't really looking for a sharp lap time, as mentioned before. It's still on the original oil. We hit the track at 810 km and there wasn't a chance to get the fluids changed, so I was "kinda" gentle. It has been a goal to make the trip over here and run on this track, and I encourage all of you to this once. The experience has been incredible. Just to hang out at the entrance to the track or the diner across the parking lot is a lifetime experience if you're a car nut. Rarely have I ever seen the likes of what entered that track today!
The people at the track were more than excited about the 1M, too:
…and they were very hospitable. We had a great time talking with so many different people from so many different places. We talked with people from Idaho, Minnesota, Ukraine, Ireland, Germany, England, France and others. The man who owned the gas station near the entrance, took us into see his private stash of Nurburgring memorabilia…and Steve managed to wrestle an orginal Nurburgring poster with a 1973 Alfa GTV Race Car on it. He wouldn't part with the Porsche or BMW stuff…
The car as a track car is just insane. I had a couple little niggly gripes from earlier in the week…I don't care anymore. They're all insignificant (except one…the seats). I don't even remember what I wrote anymore (but the seats were still fresh in my behind). What an awesome day. I cannot wait to get this thing home and drive it again. I can't believe I'm heading home the day after tomorrow…and I DROVE THE GREEN HELL in my NEW BABY!
I let several people sit in it and every single one of them, inlcuding John at RSR, the gentleman with the Escort, the owner of the Ringhaus and many many more said, something like, "I think this will be my next car…". I didn't have the heart to tell them the situation.
My Drop off in Frankfurt
Well, I did it….I handed my new baby off to the logistics company for here trip back to Canada…
We were just getting acquainted, too!
Packing up to leave Nurburg left me with one deep regret. Not planning two days at the track. I woke up thinking, "I could really knock some serious time off, now!". My brain had assembled large chunks of the track for me while I slept and I wasn't as nervous about being out on a track I didn't know, in a country far, far from home with no home town resources at hand. Boy it was tempting not to head over to the start/finish and dump everything out in the lot for one or two more laps!!
I mentioned that I had great difficulty getting some of the videos uploaded from the German countryside, but they went up quick here in Canada. 4 min instead of 80-90 min, much better!
Here are a couple from earlier in the trip that I couldn't get up due to upload issues:
1st up is the video I took as I sat watching the car rotate on the table on the delivery level of the BMW Welt. I think poor Sven thought I was nuts, but he was good about it…
2nd up is video I took while we wrapped up at the M-Studio after meeting Brian, the Director of Sales and Marketing for M and the staff of engineers who worked on the car, including the develpement and track testing. I made a comment during the video that the engineers didn't want to go on video, but in case they're watching….I never really asked them. I made the note becuase of how quickly they all said good buy when I pulled out the video camera.
3rd up is the 2nd half of the Wrap up at M-Studio
Visit with M Studio Engineers 2
4th up is a second clip of the exhaust note:
5th up is a quick video, another one through 3 gears, attempting to cature the sound of the car from the inside:
6th up is a video I took as a "Walk Around" of the car as I was handing it over to the logistics company yesterday before my flight home. I was a little rushed so it wasn't a good as it could have been, but I saw a request for a walk around and I wanted to attempt it before the car went away for 4 weeks on it's way here!
I wanted to try and inculde enough detail in the notes that if someone wanted to try and duplicate at least a portion of the trip, they could.
Here are some really useful things I learned while I was away:
In regards to driving in Germany:
– Don't pass on the right. Its financially ruining, something like $10k Euro fine
– Get the heck out of people way, and if that means there are four lanes and you're not in the 4th one closest to the right and someone is gaining on you…you move to the fourth one, even if that car has two more to the right of you to use. Most likely they aren't becuase there is someone gaining on them in those two lanes.
– People really do make use of the no speed limit opportunity. Watch you mirrors. Doing 125 mph does not keep you from being passed, we were passed at that speed several times, every couple of minutes actually.
– Yes that is a VW delivery truck passing you.
– People expect you to accelerate quickly away when joining the flow of traffic
And the most important thing we learned was that all these rules are the same ones you use on the Nurburgring, becuase it's a public road! There are posted speed limits on the track, and they "can" be inforced, but rarely are. The smoothness with which the activities on the track flowed was becuase everyone followed these rules, which are common on the road, to a T on the track. The only other one was that to signal the car behind to pass, you use your right signal, and move right giving as much room as you can…or if it's a twisty part, you turn the signal on to acknowledge they're there and then get out of the way ASAP.
There is no need to where a helmet, but I can tell you, it sure made me feel a tiny tiny bit better about wailing through the trees at 230 km+ on a narrow piece of road….I would bring one, rent one or borrow one if you could.
Havng completed the whole trip, I now know that the budget for the whole thing looks much like this:
$1100.00 return Flight (from Toronto)
$110 Euro Hotels Munich (might not need either)
$55 Euro (including Breakfast) Hotels at the Track and in Frankfurt
$1.80 Euro/L ($130 per fill up) I used two full tanks, including the track time.
$40 Euro per day Food
$24 Euro per lap, or 4 laps for $89 Euro – Track Tickets
$50 Euro per lap instruction time, apparently they can only go for one lap?
Total for me ~$3100 CAD (including three days hotels and food in Munich most of you wouldn't have to spend)
I also spent a few bucks at the Welt, but not much as the floor matts I bought there were $59 Euro for the set of four, Touch up paint kit $19 Euro and souviniers. They provided free breakfast at the Welt, and money on the BMW Visitor card ($10 Euro in the store and $10 Euro at the food counter, which my friends used since I had eaten free….)
BMW also tossed in a massive Coffee table book detailing the construction of the Welt, its wonderful. We bought a second one of those to bring home, too.
Something I forgot to mention up above…I got to keep my German License Plate off the car!! When I arrived at the drop off point in Frnakfurt, the person who processed my car's trip home said they didn't likely need it and that I could take it with me! Its now sitting on my desk awaiting me to assemble all the other tidits into some kind of frame.